Prola Ltd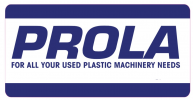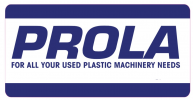 Prola Ltd from Gloucestershire:
Prola is based in the UK and has been trading for over 15 years in plastics machinery. We regularly trade worldwide with big and small companies from the USA to Europe to Australia.

We buy and sell machines such as:

Thermoformers - Illig, Kiefel, TFT, Gabler, and OMV
Extrusion lines - Welex, Amut, Reifenhäuser, and Kuhne
Dry-Offset Printers - Van Dam, Omso and Polytype
Granulators - Cumberland, Herbold, and Blackfriars
We endeavour to help all our customers to get the right machine for the right project.

If you are looking for any type of machinery please let us know and we will do our best to find something suitable for you.

Please notify us if you have any plastics equipment that you are looking to sell.
We would be very happy to sell it for you.
Mr Oliver Flannagan
Walnut Tree Farm
Corse Lawn
GL19 4ND Gloucestershire
Great Britain
---
further legal information
Discover more used machines
This dealer has been successfully verified and was awarded the Machineseeker Trust Seal.
Current classifieds & top offers:
Send inquiry to Prola Ltd:
More classifieds & machinery offers:
---
---
---
---
---
---
---
---