GGM Graphische Gebrauchtmaschinen Handelsgesellschaft mbH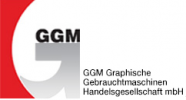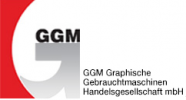 GGM Graphische Gebrauchtmaschinen Handelsgesellschaft mbH from Espelkamp:
Your partner for used bookbinding machinery!

Based on our experience for over 35 years of overhauling and trading with used binding machinery we are now an internationally recognized company in the graphic arts indrustry.
Our clientele includes paper processing companies ranging from retail bookbinders to large company groups such as Bertelsmann.

The specialisation in bookbinding machines ensures that our customers are always advised by our experienced and trained employees.

We assure our customers a realistic market price, professional and fast handling when we purchase machines.
Of course we also buy machines for stock - independent from having a suitable customer request.

We also offer to exclusively place your machine on the market.
Your advantages are: you benefit from our worldwide contacts by only having one contract partner.
Marketing, answering technical question and customer visits - all that will be handeled by us.

You are very welcome to contact us if this is of interest for you or if you have further questions.

To find the suitable machine for each individual customer is one more of our strong points.
Our mission is to strengthen - together with you - your competitive advantage by providing top quality at an optimal price performance ratio.

A young second hand or reconditioned machine could be a good alternative for a new machine.

Our workshop and warehouse with more than 6.000 sqm offer sufficent space to assemble and check full lines or even large machine bundles.

We are glad to be your disposal as your professional contact.
Mr Viktor Dück
In der Tütenbeke 28
32339 Espelkamp
Germany
Nordrhein-Westfalen
---
further legal information
Impressum

Angaben gemäß § 5 TMG

GGM Graphische Gebrauchtmaschinen Handelsgesellschaft mbH
In der Tütenbeke 28
32339 Espelkamp

Vertreten durch
GGM Graphische Gebrauchtmaschinen Handelsgesellschaft mbH,
vertreten durch den GF Viktor Dück

Registereintrag
Eintragung im Handelsregister.
Registergericht: Amtsgericht Bad Oeynhausen
Registernummer: 9190

Umsatzsteuer
Umsatzsteuer-Identifikationsnummer gemäß §27 a Umsatzsteuergesetz: DE 153331285
Discover more used machines
This dealer has been successfully verified and was awarded the Machineseeker Trust Seal.
Current classifieds & top offers:
Send inquiry to GGM Graphische Gebrauchtmaschinen Handelsgesellschaft mbH:
Used machines in the categories of:
More classifieds & machinery offers: