Metal Band Saw Fully Automatic

Forte

SBA 361/S
EXW ONO plus VAT
28,000 €
Year of construction
2012
Location
Hubertusstraße 30, 77656 Offenburg, DE
MACHINE DATA
Machine type:

Metal Band Saw Fully Automatic
Manufacturer:

Forte
Model:

SBA 361/S
Year of construction:

2012
Condition:

good (used)
PRICE & LOCATION
Price:

28,000 € ONO plus VAT
Location:

Hubertusstraße 30, 77656 Offenburg, DE
LISTING DETAILS
Listing ID:

A7197210
Update:

23.06.2022
DESCRIPTION
Precise saw cuts due to torsion-resistant cast saw frame
Long saw blade life due to low-vibration, large-dimensioned cast saw frame and specially designed saw blade guide
exact lifting and lowering of the saw frame by two synchronous lifting cylinders
overload protection by combined saw feed system via flow control valve and cutting pressure control
low wear due to hardened and ground vice guides, clamping plates and material supports
easy operation by PLC control and frequency controlled saw drive
ergonomically comfortable working due to swiveling control panel

Manufacturer: Forte
Type: SBA 361/S
year of manufacture: 2012
Condition: used, good
working range 10-360 mm
cutting speed 11-110 m/min (20-200 m/min)
cutting length 3-9999 mm
drive power 6,9 KW
saw band dimension 4.870 x 41 x 1,3 mm
Machine dimension 1.780 x 2.225 mm (LxW)
net weight 2100kg
incl. 5m feeding roller conveyor
incl. central lubrication
Cbovh8egy0
incl. chip conveyor

The advertisement was translated automatically. Translation errors are possible.
SELLER
Contact person: Herr Viktor Besmann
Hubertusstraße 30
77656 Offenburg, Germany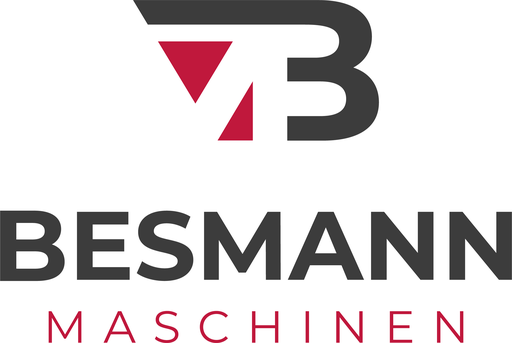 Maschinen Besmann handelt mit Werkzeugmaschinen. Jenseits vom gebrauchten Werkzeugmaschinenmarkt, bieten wir Ihnen auch neue Werkzeugmaschinen an. Derzeit umfasst unser Neumaschinenrepertoire Bohrmaschinen von ALZMETALL, Metallsägen von BEHRINGER EISELE und Druckluftkompressoren von KAESER. Seit dem Jahr 2019 sind wir auch offizielle Vertriebshändler von REHM Schweißtechnik geworden, und bieten nun auch hocheffiziente Schweißgeräte mit branchenführender Technik an. In unserem Leistungsumfang finden Sie natürlich auch den Ankauf Ihrer alten Werkzeugmaschine. Sie suchen eine Werkzeugmaschine, die wir derzeit nicht auf Lager haben? Dann schreiben Sie uns doch einfach an. Bitte beachten Sie, dass derzeit nur wenige Werkzeugmaschinen auf unserer Website online gelistet sind. Wir werden die Auswahl ständig erweitern

www.besmann.de
Weitere rechtliche Angaben
Ing. Büro & Maschinen Besmann
Inh. Viktor Besmann (B.Eng.)
Almeweg 11
D-77656 Offenburg
USt.ID: DE 294 267 047
TELEPHONE & FAX
Telephone: +49 781 95949023
Fax: +4978199051656
These listings may also fit your interest.